This weekend the Beaver Local varsity wrestling team participated in the EOWL (short for Eastern Ohio Wrestling League) wrestling tournament. The tournament took place on both Friday and Saturday at Austintown Fitch High School. The Beavers wrestled hard both days receiving many victories. Beaver local came in 3rd place as a team out of the 27 teams that competed. The Beavers also finished the tournament with 2 champions and many other placers.
Individual results:
106- John Woodburn (freshman) placed 5th
113- Cole McComas (sophomore) Champ
120- Nathan Cox (freshman)
126- Devon Salsberry (freshman) 3rd place
132- Skylar Lasure (sophomore) Champ
138- Damien Emmert (senior) did not place
145- Beau Smith (senior) 2nd place
152- Jared Wright (junior) 3rd place
160- Logan Krulik (freshman) 4th place
170- Chad Mays (senior) 7th place
182- Andrew Solansky (junior)
195- Nicholas Wukotich (sophomore)
113 lb sophomore Cole McComas wrestled hard and made his way to the finals. Where he wrestled Louisville's Ryan Jakubiak. McComas won with a 5-4 decision making him a 2x EOWL champ.
132 lb sophomore Skylar Lasure also made his way to the top of the podium. Lasure wrestled Jefferson's Joshua Baitt. Lasure won the match with an 8-4 decision.
The Beavers will be back in action on Wednesday, February 7th at East Liverpool. Where they will take on their hometown rivals.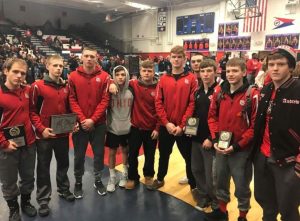 The Beavers celebrate all their winnings.
Cole McComas at the top of the podium winning the 113lb championship.
Skylar Lasure also at the top of the 132lb podium.