Last year the Pittsburgh Penguins celebrated a back to back victory. This alone is a notable achievement, as it hasn't happened in nearly two decades. However, Mike Sullivan is confident that with enough effort: the pens can win it all again.
Midway through the season, the pens are already projected to return to the Stanley Cup Championship. Their recent surge of energy has led them to multiple back to back victories against opponents. Although we lost three valuable players, including defenseman, Ian Cole. We were given three players who are presumed to help the pens. Including; Derick Brassard, Tobias Lindburg, and Vincent Dunn.
However, there are still threats for the Penguins to face. Injuries, especially to essential players, could throw off the whole team. It's also easy to pick out the struggle with an inconsistent lineup. Lastly, Pittsburgh, being second in their division and defending champions, have a target painted on their backs.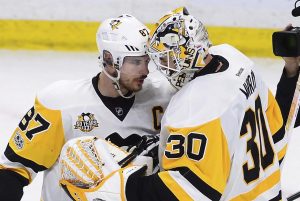 The championship is still a while away. Even so, current standings show a glimmer of hope for the first 3-peat in 35 years.