Hello class of 2018!! Graduation is getting closer and closer, and I'm sure most of you have the very serious condrition that causes you to miss a lot of school and slack on your assignments. It takes away your motivation and makes you do the bare minimum on your work. Do these symptoms sound familiar? You probably are suffering from. . . Senioritis! I know I'm seeing signs of this condition as we come upon the last few months of high school. Did you notice three very important words in the previous sentence? "Last three months", high school is almost over. We may not feel like coming to school, and most of us are probably ready to be living with our bffs in college. However, we need to try to push through senioritis!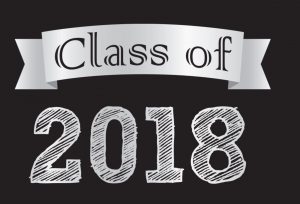 As of now, three months seems like three years away. With the many snow days, delays, spring break and the days we have off, three months will be over in a blink of an eye! While we are all still in school together we need to end those grudges, forgive and forget, and become close. These last few months we need to attend as many  sporting events as we can to support our class as they compete for the last time. If you're playing a sport make sure you push as hard as you can, enjoy going to practice, and getting that nervous pregame feeling. Get closer with your team and make memories you will cherish for a lifetime. Go to the dances!! Especially prom, I promise you, it is worth it! Don't spend your weekends laying around at home, get out and enjoy time with your friends. Now is the time to make amazing memories.
When May 18th rolls around, it will be our last time waking up at 6am to get ready for high school. It will be the last time we park in our "claimed" parking spots for school. As you walk through the doors it will be our last time walking into a Highschool. We walk down the halls and enter our classrooms for the last time. Most of us will be excited to finally be done but inside we will feel lost knowing this is our last time as a high school student. We will eat lunch together, possibly have a cookout, enjoying our last day. And as the day comes to end, we will have to put on our red caps and gowns to walk through the school and show off our accomplishment. The tears will roll down our cheeks between laughs. Songs such as "see you again" or "Time of your life" will be playing over the loudspeakers. We will all realize that our time at Beaver Local is up.
Class of 2018, after graduation when we all venture out and choose our own paths, I wish every one of you the best of luck. Thank you for being an amazing class!!