At Beaver Local, the students have 3 high school lunches (lunch A, B, and C). All 3 lunches are fairly large in size with the majority of high school students in C lunch. The lunch ladies have their daily pick of lunches like pizza, sandwiches, wraps, burgers and chicken patties. The cafeteria has a special lunch daily though, they had served a chicken bowl with mashed potatoes and popcorn chicken.

This is Janet lee Stanley, she is an outstanding worker at Beaver Local School District and she has been here for 18 years. She has been head cook for Beaver Local for about 10 years now. She does multiple jobs other than making and preparing food though, she washes dishes, helps set out breakfast items and also orders specific items used in the lunchroom. She has enjoyed her her working years at Beaver Local very much so, she loves her co-workers and even can call them some of her best friends.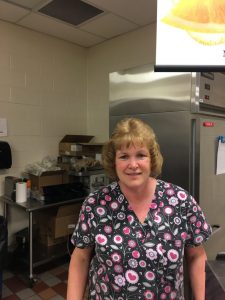 This is Tammy fox, she has worked at Beaver Local for 20 years always in the food department. Her favorite part of her job has to be working with the people, "I love my co-workers," Tammy explained. Tammy is also a head cook but she mainly keeps up on products during the day so they don't run out.

This is Michale Lynn Blair, she's worked in the Beaver Local School District for about six years and she is actually a cashier. She's in charge of taking kids money and seeing what they have put on their trays. Michale loves her job, she loves working here at Beaver Local and says, " I wouldn't want to work with a better group of people, gotta love them."
We at the Beaver Blog would like to say THANK YOU to all of our wonderful cafeteria workers. You are appreciated and valued.