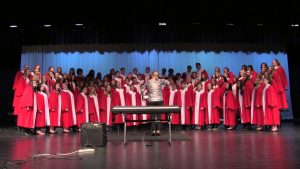 Pictured above are the Beaver Local Band and Choir
Thirty-five Beaver Local students will represent the school as the county band and choir comes to Beaver Local on Saturday, March 25. Fifteen Beaver Local band members made the cut to complete the 69 total members of the honors band. Our school has the most kids from any one school in the county representing the Beaver Local band and choir. Students from across the county spent their day at Beaver Local on Friday practicing their music. The actual performance is Saturday, March 25 at 2:00 at Beaver Local High School.
County Honors Band and Choir is a collaborative group of students from all across Columbiana County. They audition by performing a select piece of music in front of band directors and choir conductors for a seat. One of the main reasons our school is hosting this prestigious event is our brand new facilities. People from all across the county will come to see the Honors Band perform. This would not be possible without the guidance of Band Director Matt Newman and Choir Director Allison Hamilton.
Mr. Newman has done amazing work organizing and working to bring the county band to Beaver Local and show the county what Beaver Local has to offer. He has been Beaver Local's Band director for a total of fifteen years, helping not only to fully represent Beaver Local's pride in our school but also running the band as a respected program. He hopes to continue building Beaver Local's band program to maintain the good our band is doing for our school and our community.
Mrs. Hamilton is known for her stunning choir performances and musicals. Her hard work and dedication is shown best by the wide array of students who participate in her program. She pulls out talent from all students who step into her classroom and onto her stage. Hosting the county choir concert gives Beaver Local a chance to show off the amazing music programs Mrs. Hamilton and Mr. Newman have built in our district.
Congratulations to the following students who were selected to participate in the county band and choir performances:
Hanna Fishback
Kendra Jackson
Kylie Kraus
Alex Gabbert
Roc Worth
Madeleine Schreffler
Ashlee Phares
Andrea Trotter
Konnor McCoy
Mikalya Shulas
Jeremy Balmenti
Traven Renner
Brandon Morgan
Alexis Cain
Lexi Merriman
Alec Post
Damien Emmert
Zak Pappas
Brady Duncan
Preston Crawford
Morgan Haddox
Kameron Griggs
Destiny Kay
Dean McPeek
Katrina Malcolm
Mike Guappone
Max McEndree
Hannah Braslawsce
Harley Smith
Grant Hall
Logan Kronstain
Hunter Moore
Jakub Tanner
Emma Palmer
David McCullough
Be sure to stop out to Beaver Local High School at 2:00 on Saturday, March 25 for the County Band and Choir Concert. It is sure to be an impressive show!